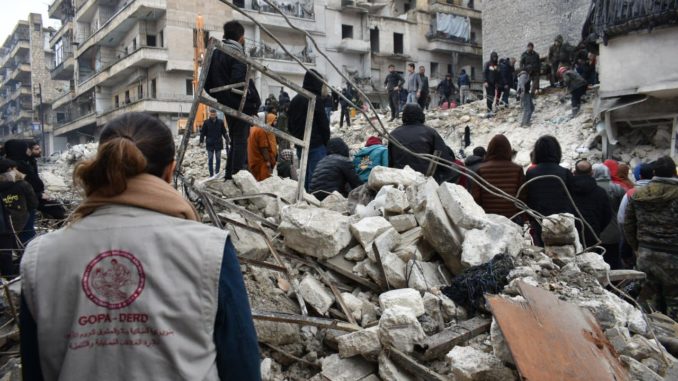 March 22, 2023 update: The Outreach Committee has authorized a $2,500 donation to Episcopal Relief for earthquake relief in Turkey and Syria.
As I write this, the death toll in Turkey has exceeded 20,000, and many who survived have lost family, friends, homes, and communities with none of the safety nets we have in the United States. In partnership with other Christian relief agencies, Episcopal Relief and Development is leaping into the breach. If money is fungible, does the agency itself matter? In two important ways, yes it does.
First, your generous gifts go where you expect them to go, and do what you expect them to do. Charity Navigator gives ERD a four-star rating, Charity Watch gives ERD "Top Rated" status and an A rating, and the Better Business Bureau's give.org site gives ERD its highest rating in each of its 20 categories. For more than 80 years, Episcopal Relief & Development has been working together with supporters and partners for lasting change around the world. Each year the organization facilitates healthier, more fulfilling lives for more than 3 million people struggling with hunger, poverty, disaster and disease. Inspired by Jesus' words in Matthew 25, Episcopal Relief & Development leverages the expertise and resources of Anglican and other partners to deliver measurable and sustainable change in three signature program areas: Women, Children and Climate.
Second, even for those who don't share our faith and don't know our names know the name of Jesus. And giving in Jesus' name bears witness to the truth that we give because we have received so generously from our God. Scripture teaches us, "Give thanks to the Lord, call on his name; make known his deeds among the nations; proclaim that his name is exalted. Sing praises to the Lord, for he has done gloriously; let this be known in all the earth" Isaiah 12:4 and "I will do whatever you ask in my name, so that the Father may be glorified in the Son" John 14:13. "We do not proclaim ourselves; we proclaim Jesus Christ as Lord and ourselves as your slaves for Jesus' sake." 2 Cor. 4:5
That's why Becky and I will be giving to Episcopal Relief and Development … again. Will you join us?