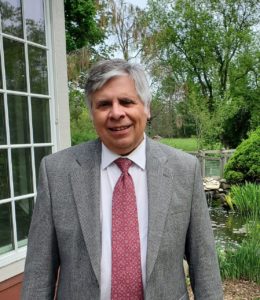 ✉ Organist and Choirmaster (414) 276-6277
Canon Kucharski began his musical career in the Episcopal Church here at St. Paul's in 1967 when he became a member of the choir. He began organ studies with John Weissrock, parish Organist and Choirmaster, eventually winning a scholarship to the Wisconsin College-Conservatory of Music in 1969. There he continued organ study with Weissrock, choral conducting and Art History with Margaret Hawkins, and composition with Dr. Bernard Childs (Artist-in-Residence at the Milwaukee Symphony).
In 1970, John Weissrock became Director of Music at St. Paul's and appointed Joseph as Organist/Choirmaster for the adult and children's choirs. This allowed time for Weissrock to further establish his Outreach Music of the Church Choir separately from the parish. This group of dedicated musicians produced vinyl recordings of sacred choral and organ works for several years.
Joseph served as Organist/Choirmaster of St. Mark's Episcopal Church from 1974 to 1990. During his tenth year, he was awarded a sabbatical to study in England and attend the Royal School of Church Music.
He was appointed Choirmaster/Organist of the Cathedral Church of All Saints, Milwaukee, in October of 1999. In addition to overseeing the organ renovation project, playing for diocesan services, and directing the cathedral choir, he established a choral scholarship program for high school and college students as an outreach to the larger Milwaukee community. Joseph was elected Canon and installed as Precentor in 2002.
Joseph was Professor of Church Music and Director of Chapel Music at Nashotah House Episcopal Seminary from 1990 through May of 2015. He is the only lay-professor to have been awarded tenure and attained Senior Professor in the seminary's history. He was awarded a Doctor of Music Honoris Causa in 2004 for his service to the Episcopal Church.
While on sabbatical from Nashotah House in 2006, he organized and raised funds for All Saints' to install five bells as a Milwaukee 9/11 Memorial – The Bells of Remembrance and Hope.
Canon Kucharski has been editor of The Episcopal Church Musician's Handbook in 1984, and editor of The Liturgical Desk Calendar (Episcopal Edition) since 2009. These annual publications are used by clergy and musicians throughout the Episcopal Church.
He has been a member of the Organ Historical Society since 2006 and is a proud member of the Milwaukee Chapter of the American Guild of Organists since 1970.