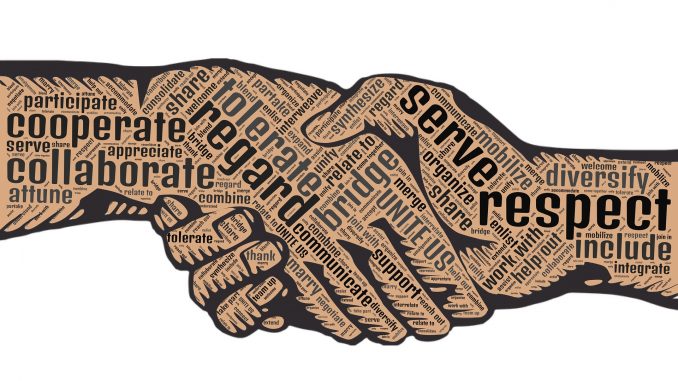 As we struggled through another year of COVID and its variants with more, yet restricted, opportunities to interact with one another, the St. Paul's community came together, often virtually, in service of its outreach mission and provided valuable support to partners as they experienced great needs.
Food insecurity and homelessness continued to be exacerbated by the economic crisis brought on by the pandemic. St. Paul's strengthened its partnerships with the Interchange Food Pantry and Repairers of the Breach, Milwaukee's only daytime refuge and resource center for homeless adults. In April, a fund/supply drive in St. Paul's parking lot generated several hundred pounds of the supplies from Repairers' "most needed" list, and $3,575 to supplement the annual funding mentioned below. In November, to honor our departing Deacon, Sheila Scott, who had long been involved with both charities, a similar drive was held which produced hundreds of pounds of food and supplies and $2,300 for Interchange and $1,650 for Repairers.
Other outreach highlights include:
Renewal of our partnership with Christ Church in Oforola, Nigeria with a $1,000 contribution to support the continuing construction of a rectory and $2800 for urgent food relief for the parish.
This year has been challenging. A CG Public Health/Covid Team, in partnership with Milwaukee Health Dept., was created after CG observed the inequities this virus exposed. CG did a listening campaign via Zoom and some in-person, connected with 1,000 Wisconsin residents over the spring/summer to assess our community during Covid. Also, CG has 4 main issue campaigns now running-jobs, education, neighborhood issues, and gun safety. (St. Paul's supported Common Ground through annual membership dues of $3287.00 in 2021.)
Continuation of the Jesse Tree program in virtual form to fund sweatshirts for students in Our Next Generation's teen program.
In December, the Outreach Committee met via Zoom to determine annual year-end funding of longtime partners. The committee had available $25,530.00 in funds to disburse that remained after the earlier payment of Common Ground dues (see below). Representatives of the Thrift Shop also attended, adding $4,000.00. The second table helps highlight the combined impact of St. Paul's outreach efforts. $4,420 remains unallocated.
| | | |
| --- | --- | --- |
| Funding | 2021 | |
| Budget | $17,530.00 | |
| Outreach Endowment | $8,000.00 | ($ 11,287.00, less Common Ground dues of $3,287.00) |
| Carryover | | |
| Subtotal | $25,530.00 | |
| | | |
| Thrift Shop | $4,000.00 | |
| | | |
| | $29,530.00 | |
| | | |
| Less: non-Oforola Fund Allocated | $25,110.00 | |
| | $4,420.00 | |
| | | | | |
| --- | --- | --- | --- | --- |
| Partner | 2021 Outreach Committee Funding | 2021 Thrift Shop funding | 2021 Oforola Account funding | 2021 Combined Total |
| Christ Church Oforola | 2,665.00 | | 1,135.00 | 3,800.00 |
| Diocesan Haiti Project | 1,000.00 | | | 1,000.00 |
| Hospitality Center Racine | 2,000.00 | | | 2,000.00 |
| Interchange Food Pantry | 4,000.00 | 1,000.00 | | 5,000.00 |
| Our Next Generation | 2,000.00 | | | 2,000.00 |
| Pearls For Teen Girls | 0 | | | 0 |
| Repairers of the Breach | 2,300.00 | 1,000.00 | | 3,300.00 |
| Running Rebels | 2,700.00 | | | 2,700.00 |
| Sojourner Family Peace Center | 2,250.00 | 1,000.00 | | 3,250.00 |
| The Gathering | 0 | | | 0 |
| Forest Home reforestation | 0 | | | 0 |
| St. Paul's Outreach | 195.00 | | | 195.00 (from recent event) |
| Episcopal Relief & Development | 2,000.00 | 1,000.00 | | 3,000.00 |
| Grants Totals | 2,110.00 | 4,000.00 | 1,135.00 | 26,245.00 |