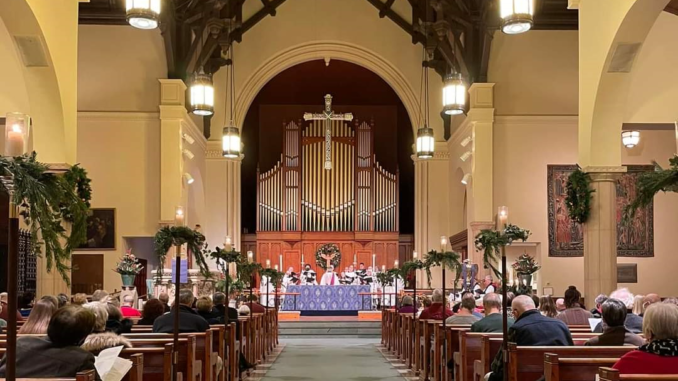 Choir
From January through April our church remained closed for in-person services. Clergy, lay readers, choral scholars, and organists, continued to be recorded each week by Chuck and Ruth Werth for presentation on YouTube. This format began in March of 2020. Through this period, the music department stayed safe; not one case of Covid-19. Parishioners were welcomed back to St. Paul's for live worship in May 2021. In June we welcomed back our volunteer singers, who with 4 of our scholars formed the Parish Summer Choir singing through August. The full choir returned mid-September.
Choral evensong was offered on the first Sunday of October at St. Paul's and on October 31st at the Forest Home Cemetery Chapel.
Our annual Festival of Nine Lessons and Carols was presented on Sunday, December 19th at 4 pm. It was a splendid afternoon with over one hundred in attendance. Perhaps next year we will be able to enjoy a festive reception following the service.
Music Library
Cataloging of the music library is finally finished. Ann Thorson has done an excellent job of recording everything on computer. She also manages the seasonal music packets for our singers. In the near future, we hope to replace damaged and missing choral scores.
Organ
August 2021 The entire Gallery Organ sounded for the first time in 10 years. Richard Houghten and Jerroll Adams, the original builders, along with our Milwaukee crew, Nolte and Sons, finished removing, cleaning, and returning 1,800 pipes to the gallery 30 feet above the nave floor, and reconnecting over 290 digital cables under the church floor to the organ console. A new 8 Tuba (tuba is Latin for trumpet) stop was installed in the chancel organ along with a IV Rank pedal mixture as gifts to the parish in memory of John Weissrock, Jim Melby, and Noel Rousey. The chancel organ is now fully completed.
A special program by "Organized Ryhthm" was presented in October to celebrate the reactivation and 10th anniversary of our excellent chancel organ. It was the first organ recital presented in the city since Covid-19. Over 100 people were in attendance. Clive Driskill-Smith, organ, and Joseph Gramley, percussion, performed organ transcriptions of a variety of orchestral works.
The Change Ringing Bells
We have collected about half the money required to install the 8 change ringing bells in our West Tower. This summer we received official documentation from Roland Perschon's estate granting us ownership of the bells. Sadly, Mr. Perschon died in February.
The Milwaukee Chamber Choir
Our Artists-in-Residence gave their first concert of sacred music in November. They plan to perform another program on Palm Sunday, April 10th at 2:30 pm.