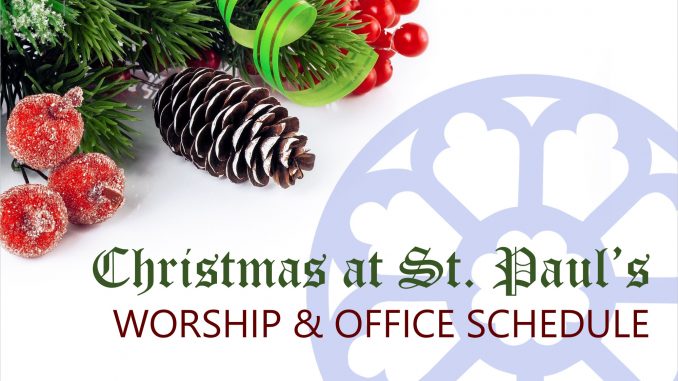 Join us this Christmas season in celebrating Jesus' entry into our world, taking on our nature so we could share in his own. Here's the schedule of worship services and office availability:
Christmas Eve: Holy Eucharist at 4 (music but no choir) and 8 p.m. (including choir and carols), where the 8 p.m. is the same format as the previous 10:30 p.m. Christmas Eve service. Office Closed.
Christmas Day: Spoken Chapel Eucharist at 10 a.m.
Sunday, Dec. 26: 10 a.m. Holy Eucharist as always, with very limited choir presence.
Week Following: Office closed.
Sunday, Jan. 2: "Normal" schedule resumes.
The previous 10:30 p.m. Christmas Eve service is not cancelled, but rescheduled for 8 p.m. in consideration of feedback from parishioners that the late hour raises concerns around wakefulness, security, and potentially difficult driving conditions. Survey data suggests significant preference for the same service at an earlier hour. We'll try this and ask the congregation for feedback about the change before setting the Christmas schedule for 2022.
May our yearly celebration of the birth of our Lord being you and those you love great joy, and may you enjoy happiness and prosperity in the new year!