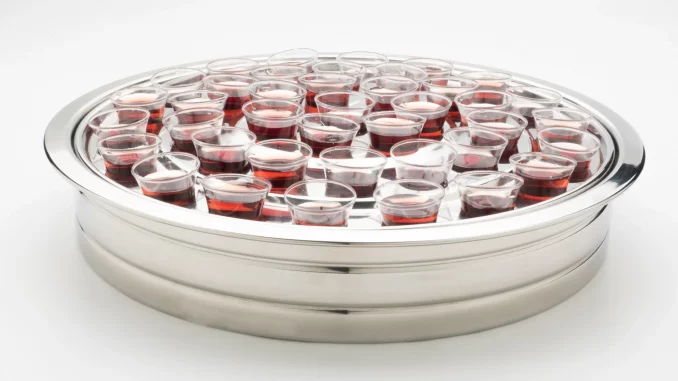 Following a meeting with parishioners, the Interim Rector announced that wine will return to Holy Communion at St. Paul's in the coming weeks. Parishioners identified restoration of the Blood of Christ as a major concern, and discussed the tradition of a common cup, health concerns if communicants were to kneel at the communion rail or share a cup, and the advantages and disadvantages of intinction (dipping the bread into the wine).
After hearing each other's concerns, participants recommended using individual glass "communion cups," and serving it at standing stations similar to the current administration of the bread at Holy Eucharist, and the Interim Rector accepted their recommendation. Stations will be administered by masked Eucharistic Ministers ("chalice bearers"), and the congregation will select a cup, drink the contents, and return the cup to a tray designed to keep the cups separated from each other. Receiving the wine will be optional. The group's sense is that this method of administering the wine is the safest and most effective way to make reception of wine possible to the most people.
The trays have been ordered and received, but the cups themselves are on back order with all known vendors, and are expected to arrive in early November. The use of individual cups is common in some traditions, but very unusual in the Episcopal Church. This change is provisional, and not intended to be permanently binding on the congregation or the next rector. Some bishops prohibit the use of individual cups, but they were used successfully at our recent Diocesan Convention. Our best estimate is that use of communion cups will begin at St. Paul's in mid- to late November.