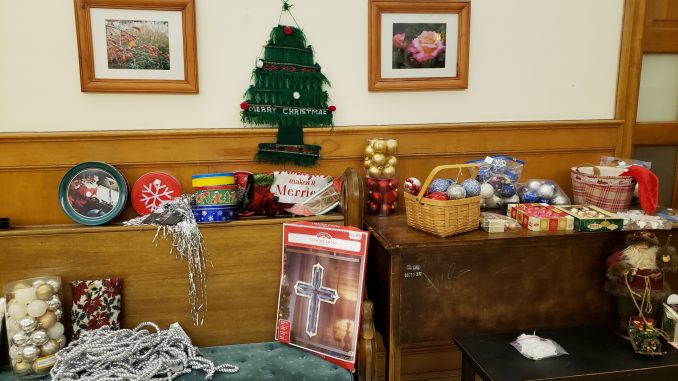 On Saturday, December 4th, the Great Hall was a joyful place. Volunteers had worked all week to price and display the many items carried over from the Thrift Shop. When the sale opened at 10 a.m., there was a line in the parking lot. We heard so many versions of "We missed you" and "When is the shop re-opening?"
By the end of the sale, we had more than $1,600 and a few of our generous volunteers helped round up to $1,700.
As you know, Thrift Shop money goes toward outreach. We figure this year, the Shop will contribute $3,300 to the Outreach budget for grant distributions.
In this season of gratitude, we are so thankful for our volunteers and choir members who did it all, from hauling boxes from the shop to the final clean-up; Carol Benjamin, Lee Coppernoll, Peter Larson, Sheila Scott, Priscilla Rutt, Sandra Halgerson, Suzanne Matenaer, Pat Luebke, Dean Thome, Mary Beth Weissert, Ruth Werth, Nicole Hanlon and Michael Nelson.
And of course, we need to thank all of you who donated so many beautiful items for us to sell and place in new hands. We couldn't do this without our St Paul's church family!
With gratitude,
Chris Krueger and Pat Ruttum