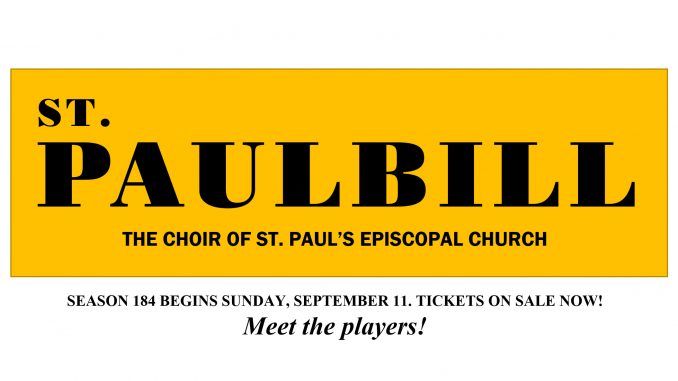 Austin Bare (Tenor)
Austin has been singing with St. Paul's Choir since April 2020. He is a member of Aperi Animam and has appeared in numerous musical productions. His middle name is not "Powers".
Camille Crossot (Soprano)
Camille Crossot is a soprano who grew up singing in Milwaukee area ensembles. She holds a Master of Music degree in Voice from the Peabody Institute in Baltimore, where she sang in the choir at Grace & St. Peter's Episcopal Church. She is delighted to join the choir at St. Paul's.
Danielle Gedemer (Soprano/Alto)
Since graduating from UW-Milwaukee with a Bachelor of Fine Arts in Vocal Performance, Danielle Gedemer, soprano, has enjoyed working with the Wisconsin Conservatory of Music in their Connections program, writing a libretto for the Florentine Opera Company for their children's show Cinderella, singing at St. Paul's Episcopal Church, and annually composing songs with her mother for West Bend Parks and Rec Department's summer theatre show. In her free time, she loves spending time with her incredible family and friends.


Todd Heikkinen (Bass)
Matt Pamperin (Bass)
Todd and Matt started their Episcopal experience singing at St. Paul's many years ago. After a stint at All Saints' Cathedral, we are glad to be back.
Deme Hellwig (Soprano)
Deme Hellwig is a graduate of Lawrence University with a Bachelor's in Music. She is a member of Milwaukee based early music ensemble Aperi Animam and has been singing with St. Paul's choir for a few years. It's her hope to continue professionally in her passion for early music performance.
Becky Hensley (Alto)
Becky is a recent (2021) volunteer in the St. Paul's choir who will be moving on in 2023 when her husband, Lane, completes his work as the Interim Rector. She has been singing in church choirs since she was 8 years old and managed to convince her mother she could stay awake through an entire worship service. She started as an alto to annoy her older soprano sister and has stuck with it since figuring out it is the snarkiest section in any choral group.
Elias King (Bass)
Eli King is thrilled to be joining St. Paul's Choir! A graduate of UW-Milwaukee, he teaches choir at Greenfield High School and sings with Aperi Animam and Chant Claire. He has appeared in many theatre productions both onstage, and as a music director. Additionally, he is a composer.
Tedd King (Tenor and Associate Organist)
Tedd has a master's degree in music and a master's degree in computer science. He has been singing in choirs since the 6th grade and playing keyboard instruments since 5. For him, music, whether vocal or instrumental, is the soul's way of conveying spiritual thought and expression. He is semi-retired from a career in IT and is currently working at Wild Birds Unlimited keeping our feathered friends well supplied with bird seed, houses, and feeding stations.
Sarah Knox (Alto)
Sarah Knox is a Professor in the Department of Counselor Education and Counseling Psychology at Marquette University. In her free time, she loves to exercise, read, and travel. She is also a rabid Ohio State Buckeye!
Steve Sanders (Bass)
I am one of the longtime choir members, singing bass. I recently retired after 45 years as a funeral director. With all my new found free-time, I will be enjoying traveling, gardening, being a dog dad to four fur babies and spending time with my husband Rand.
Joseph Schmidt (Tenor)
Hello! I am in my last year at UW-Milwaukee studying Choral Music Education and Theatre. I became a Choral Scholar at St. Paul's in February 2020 and I have loved being a part of this group which values quality music and community togetherness.
Rand Schmidt (Bass)
Rand is a retired Special Education teacher who began singing in church choirs as a teenager. He is starting his 33rd year with the St. Paul's Choir. Besides singing, gardening is his passion.
Alex Spors (Bass)
I have been heavily involved in music since I first picked up the violin at 8 years old and began singing shortly after that. I finished my bachelor's degree in 2017 from UW Madison with a dual major in Political Science and Russian. However, I spent the next 3 years teaching myself computer science during my free time and currently work as an IT engineer. I enjoy singing at St. Paul's. A church with strong liturgical music most always has an excellent congregation.
Ann Thorson (Alto)
I am a cradle Episcopalian and have been a member of St. Paul's since August 2019. It's been my joy to sing in our choir and be our Choir Librarian. I retired in 2016 after working 33 years for (Ascension) Wheaton Franciscan Healthcare as their Medical Alert Services Coordinator. I am a member of Cairn Rescue USA and have two dogs, Cookie and Daisy. I'm blessed to have a close-knit family and love getting together with them often.
Jackie Willis (Alto)
This is Jackie's fourth year at St Paul's. When she is not singing at St Paul's, she is nannying two great kids and Artistic Directing Milwaukee's vocal early music ensemble, Aperi Animam, which translates to "open your soul". She enjoys reading, spending time with her cat, Storm, and exploring new places with her partner, Christal.
Jay Zamora (Tenor)
Jay is a voice teacher and performer in the Milwaukee area. He is very excited to join the Choral Scholars!
Chris Zibart (Tenor)
Chris has sung in Episcopal Church choirs for several years. Since moving to the Milwaukee area in 2011, he has sung at St. Paul's and also at All Saints Cathedral. Prior to that, Chris was at Holy Spirit Lake Forest in Illinois. Chris lives in Waukesha with his wife and assorted pets.
Canon Joseph Kucharski
(Director of Music and Liturgy)
Canon Kucharski began his musical career in the Episcopal Church here at St. Paul's in 1967 when he became a member of the choir. He began organ studies with John Weissrock, parish Organist and Choirmaster, eventually winning a scholarship to the Wisconsin College-Conservatory of Music in 1969. There he continued organ study with Weissrock, choral conducting and Art History with Margaret Hawkins, and composition with Dr. Bernard Childs (Artist-in-Residence at the Milwaukee Symphony). In 1970, John Weissrock became Director of Music at St. Paul's and appointed Joseph as Organist/Choirmaster for the adult and children's choirs. This allowed time for Weissrock to further establish his Outreach Music of the Church Choir separately from the parish. This group of dedicated musicians produced vinyl recordings of sacred choral and organ works for several years.
Joseph served as Organist/Choirmaster of St. Mark's Episcopal Church from 1974 to 1990. During his tenth year, he was awarded a sabbatical to study in England and attend the Royal School of Church Music.
He was appointed Choirmaster/Organist of the Cathedral Church of All Saints, Milwaukee, in October of 1999. In addition to overseeing the organ renovation project, playing for diocesan services, and directing the cathedral choir, he established a choral scholarship program for high school and college students as an outreach to the larger Milwaukee community. Joseph was elected Canon and installed as Precentor in 2002.
Joseph was Professor of Church Music and Director of Chapel Music at Nashotah House Episcopal Seminary from 1990 through May of 2015. He is the only lay-professor to have been awarded tenure and attained Senior Professor in the seminary's history. He was awarded a Doctor of Music Honoris Causa in 2004 for his service to the Episcopal Church.
While on sabbatical from Nashotah House in 2006, he organized and raised funds for All Saints' to install five bells as a Milwaukee 9/11 Memorial – The Bells of Remembrance and Hope.
Canon Kucharski has been editor of The Episcopal Church Musician's Handbook in 1984, and editor of The Liturgical Desk Calendar (Episcopal Edition) since 2009. These annual publications are used by clergy and musicians throughout the Episcopal Church.
He has been a member of the Organ Historical Society since 2006 and is a proud member of the Milwaukee Chapter of the American Guild of Organists since 1970.