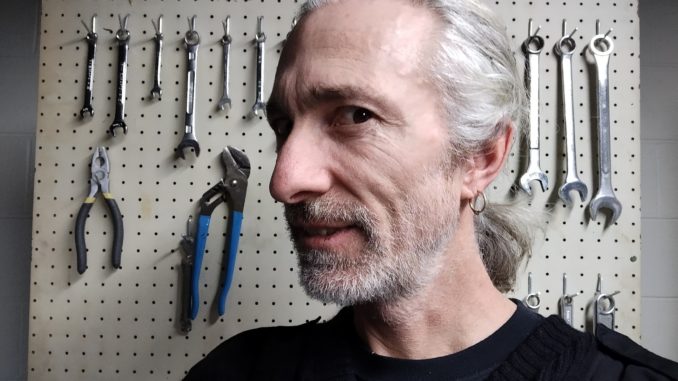 Skrauss, or The Skrauss, when filling out forms, received his name from his shipmates in the Navy. He had prayed for a new name ten years earlier in fifth grade, Decorah Elementary, West Bend Wisconsin. The new name is a contraction of Skrap Haus. Returning to UWM in 2007 to earn his masters degree in fine art, he seized an opportunity to become the sexton of St. Mark's. He stayed 15 years, and in that time learned that he has a natural ability to fix and maintain machines and infrastructure. When St. Mark's decided to eliminate their sexton, The Skrauss scrambled to find a new source of income and landed at St. Pauls.
His art, he just learned a couple years ago, can be described as an extended active imagination. This is a psychology method developed by Carl Jung. It is a way to reenter dreams and communicate with the characters, settings, and stories in order to discover the message that dreams bring from our soul. Or you might just say that it's narrative painting. He hopes to turn this discovery into something with which he can help other people discover their own soul's desires.
He is happy to be part of the tilt-a-whirl of church communities, and antique architecture.
Please join us in welcoming Skrauss as our new lead sexton.