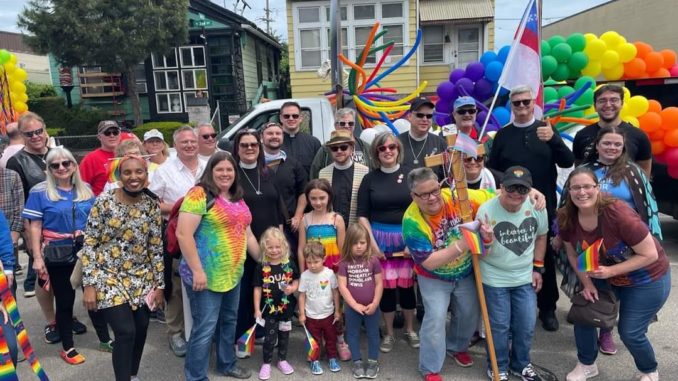 Join us as Episcopalians marching with our LGBTQ+ siblings in the Milwaukee Pride Parade on Sunday, June 4! The parade will begin promptly at 2 pm, and we'll gather at the staging area at 1:15 pm. The staging area is on 2nd Street between Lapham and Greenfield. Enter the staging area only from 2nd and Lapham and the parade people will tell you where to go.
To find our group, look for the Episcopal Diocese of Milwaukee banner. We will provide small Pride flags if you would like to carry one or more. Please feel free to bring any signs that have positive Pride messages that represent who we are as Christians and Episcopalians. Some of us may bring our liturgical bells to ring or other items that are not too intrusive but represent who we are.
Make sure to wear comfortable shoes for the walk and dress for the occasion! There is lots of Pride gear available out there, including at Target, Amazon, and Walgreens.
Be sure to sign up to join us at the link below so we can update you with changes. We can't wait to see you at the parade!
https://docs.google.com/forms/d/e/1FAIpQLSf4ke-L71P3sdKuJbj9YK7vSYFvVzvATXM07xVkIiRWvJZPKg/viewform?usp=sf_link