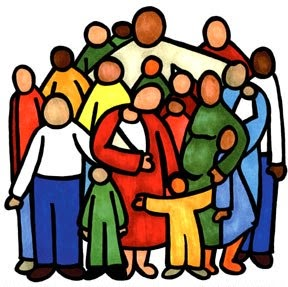 St Paul's Parish Life Committee has reformed and begun stirring waters again. Since being officially regrouped with new chairs, Nicole Hanlon & Michael Nelson, the Parish Life Committee has assisted with three events spearheaded by different individuals with resounding success. Reverend Lane pushed for the spooky season of All-Saints Day to be capitalized upon and a Haunted Organ Concert with an accompanying bonfire was hosted on Halloween Night. Kurt Bushman rallied organization around an early December Cookie Walk which raised funds for future events, and featured light activities with donations from Crumbl Cookie. Carol Deptolla near single handedly carried the organization of, gathering of volunteers for, and managing the execution of the much beloved Lessons & Carols Reception, which hosted a significant crowd and a crowded selection of hors-d'œuvres.
Into the near future of Parish Life matters, the Diversity Committee Chairs of Flo Dukes and Eric Dawson have arranged a plethora of events to observe African American Heritage Month. Opportunities for the community to engage in this celebration include: musical features and arrangements from current and former members; an apropos literary discussion by the Book Club; a tour of the Milwaukee Art Museum's collection of African American artist's works by member docents; and Adult Formation's Dana Fritz will be discussing Milwaukee's historical 1967 March for Equal Housing as well as facilitating a reading of Martin Luther King Jr's Letter from Birmingham Jail. On the same day as that reading, February 19th, the Annual Diversity Luncheon will be hosted! We are all very excited to attend this potluck, and will all be sure to bring a dish to share over conversations of social progress.
Looking into the coming year, Parish Life is excited to have put together a calendar of events we wish to work together to host. This is laying groundwork after returning from a global pandemic; it is also a resetting to address the needs of our community with the resources and capacities which we find at hand. Some events are tied to recognizing dates and celebrations within the church calendar. Others are either events in the greater Milwaukee area we can participate in together or will be chances to gather as a Body out in the broader world together. Both of these methods seek to promote gathering beyond the walls of our church building. And importantly, another branch of our plan is to find opportunities for St Paul's to serve our local needs through offering community and welcome spaces, allowing for new relationships to be built in our neighborhood. These plans that are outwardly focused and that provide value to guests wherever they are at in their lives is a specific passion of our new co-chairs. We feel the identified values to reach towards for Parish Life as goals are: offering a sense of belonging; building familial resiliency; fellowship outside of service time; contributing meaningfully and seeing souls be changed; creating a welcoming atmosphere; offering ramps for the neighborhood to engage; and strengthening our individual selves. We look forward to building towards these values through what we do in this next year.
-Nicole Hanlon & Michael Nelson