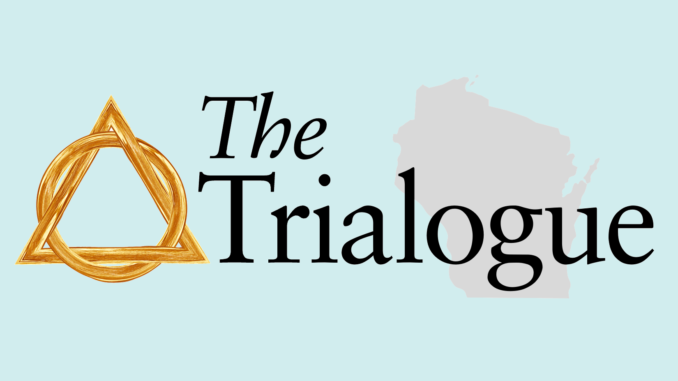 Please join us this Sunday, Nov. 13 at 9 a.m. in the Community Room, and come prepared to offer feedback. The Interim Rector will be moderating a discussion of the proposed reunification of the three Episcopal Dioceses in Wisconsin. But the Interim Rector is not an expert on the subject: Instead, this meeting is to receive and record your own feedback about the proposal, and your effective participation requires that you familiarize yourself with written materials ahead of time.
Yes, it's homework!
The Rev. Dr. D. Jonathan Grieser, rector of Grace Episcopal Church in Madison and a Trialogue Task Force member, asks that all of us review these documents ahead of this Sunday's Forum [or download the whole thing here]:
Fr. Grieser writes,
The trialogue is considering the reunion of the three Episcopal dioceses in Wisconsin into one diocese. A Steering Committee is coordinating the various Task Forces to examine what is needed for building such a proposal. No specific proposal has been developed yet. Attached are three short documents that introduce the possibility of the three dioceses coming together again and provide a bit of background to this process. I hope you are able to make time to read these, as well as reflect and pray about this. There is additional information at the Wisconsin Episcopal Trialogue Hub. This site provides information about each diocese, explanation of the process as well as the various task forces working to discern God's will for Episcopalians in Wisconsin.
The time will be one for gathering thoughts, hopes, concerns and fears. The information gathered will be provided to the Parish Engagement Task Force and then the Steering Committee for them to determine how to address and assign questions it to a task force. Some of you may be thinking, "Why go through this? It's a done deal." The bishops are clear, it is not a done deal. The decision whether or not to join together in some form is a complex one. There is much we need to learn, reflect, and pray on, before any decision can be reached. Be assured that this will not be done quickly or lightly, but prayerfully and with openness and thoughtfulness. This is a time for listening to one another and to God's Holy Spirit.
Please remember we are early in the process so there are few answers. We don't even know all the questions we need to address and that is where your help is needed. You may have many thoughts or few; regardless we want to hear them. All are important at this point in the process.
Faithfully,
Fr. Jonathan Grieser
Trialogue Parish Engagement Task Force
At the request of the Trialogue Task Force, the Interim Rector will be a moderator, but will not be present to answer questions beyond these materials.
These are the questions we'll be asked to discuss:
What excites you?
What concerns you?
What hopes do you have?
What fears do you have?
What questions do you have?
Are there any last thoughts before we end?
This is a complicated conversation, and the Interim Rector looks forward to hearing your thoughts. See you Sunday at 9!