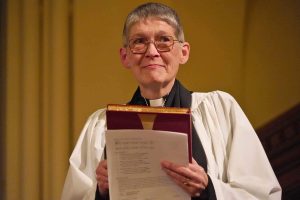 Deacon
csillams@sbcglobal.net
I love St. Paul's generational and racial diversity, welcoming nature of its parishioners, its wonderful music program and its wonderful liturgy. — Deacon Sheila
Deacon Sheila Scott has been with St. Paul's Episcopal Church since October of 2013. After years as an active member of St. Andrew's Episcopal Church in Amarillo, TX, she received a call to the diaconate and was ordained a Deacon in August of 2010. After serving as Deacon for one year at St. Andrews, Sheila returned to Milwaukee to be closer to her two daughters and four grandchildren who live in Wisconsin and Minnesota.
Sheila is an ethnic Hungarian from Transylvania, a region of Romania in Eastern Europe, and came to the United States in 1983, settling in Milwaukee, WI. She graduated from nursing school and became a US citizen in May of 1989 here in Milwaukee, so she considers Milwaukee her hometown. She is a registered nurse by vocation, and prior to retirement in 2018, served at the Zablocki VA Medical Center as a nurse educator.
In October of 2016, Deacon Scott instituted the weekly Evening Prayer service at St. Paul's on Thursdays.
Deacon Sheila is committed to community involvement. Since 2014 she has served on the Board of Directors of Interchange Food Pantry and became president of the board in 2019, currently serving my second one-year term. Since retirement in 2018, she volunteers at the food pantry on a weekly basis, serving guests in need. Sheila has been involved with Repairers of the Breach Medical Clinic since 2013, periodically volunteering as an RN at the clinic, and has been collecting much needed clothing and hygiene items for the Day Shelter over the past few years.
He hobbies are reading, weaving, and travel.